What's In The Shop: Ola Studio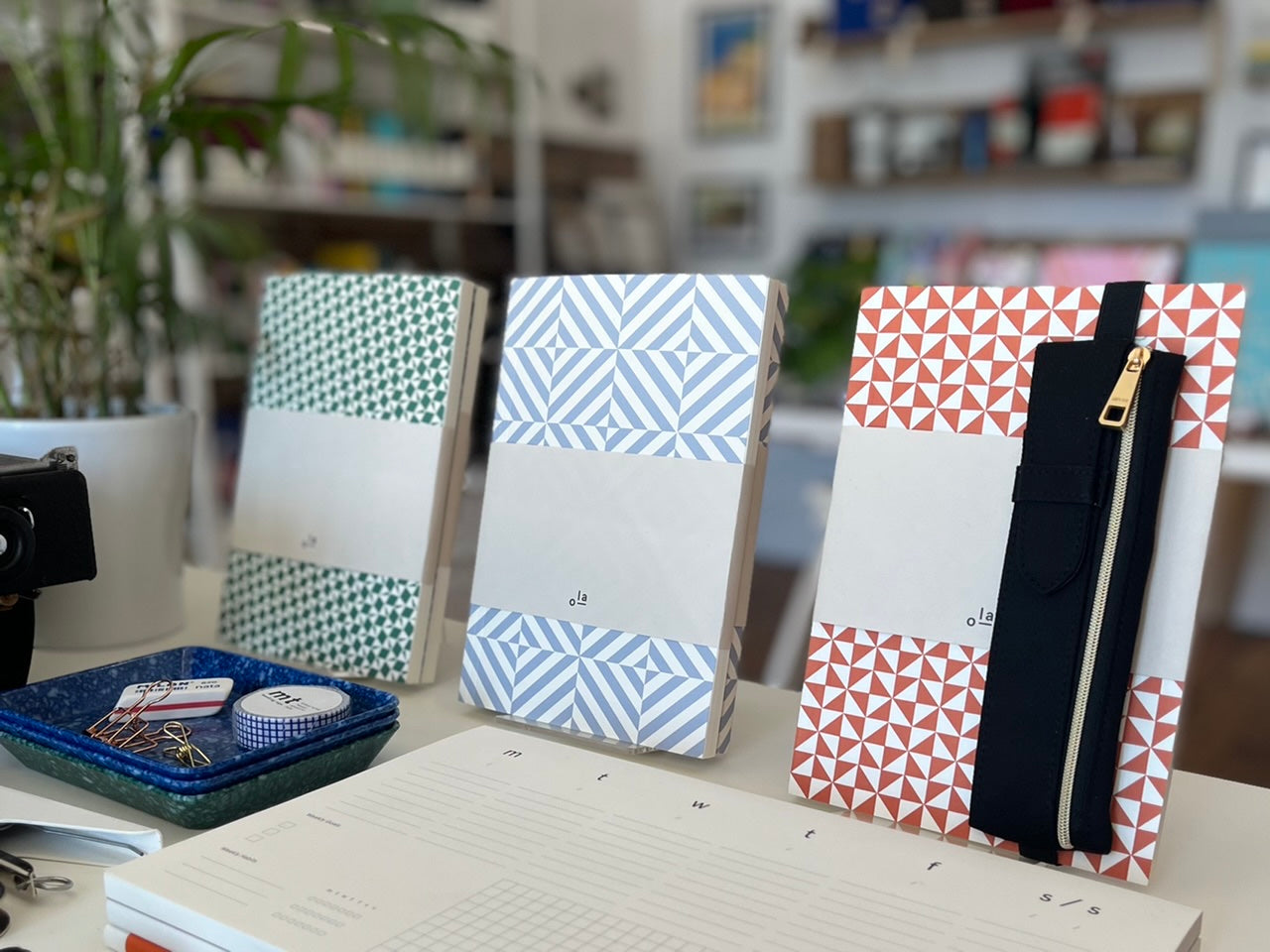 We love Ola Studio notebooks so much that it's currently one of the first things you see when you enter the shop! Founded in 2013 by the wonderful Katy Goutefangea after she realised she had shelves and shelves of notebooks but none that felt like the perfect tool for her. So what does a person with skills and tenacity do when they can't find the perfect tool? They design and build it - and that's exactly what Katy did.
Why we love Ola notebooks

 

 
Lay flat binding: This enables the notebooks to stay open from the first page, making it great for left handlers too. 

Thick paper: Great for fountain pens with little bleed through between pages.
Kind to the planet: Made with vegetable-based inks & FSC certified paper stocks, these paper products have our environment in mind.
(And it's designed & manufactured in the UK)

We could go on and on about how brilliant they are but the best thing to do is hold one in your hands, see it, feel it, turn the pages and write because when you do, you will fall in love with it too.


What we have in store

 

 
You'll find Ola's classic desktop pad, a selection of plain, dotted and ruled notebooks, undated weekly planners for ultimate flexibility and bold patterned wrapping paper, perfect for gift giving and crafting.
Want to know more?

Weekly Desktop Pad
The minimal but practical layout has been carefully thought through, helping to structure and manage work and life. They take ink well and are wonderfully smooth to write on.

Great for: daily and weekly planning, goal prompts and habit tracking. 



A5 Notebooks  


The embossed covers feature one of Ola's signature patterns and are made with premium 300gsm card stock that's flexible so fits comfortably in a bag. Inside you'll find 128 soft white pages, each 100gsm in weight.

Great for: planning, note taking and journaling.

Weekly Planners 
Designed with undated pages so you can make a start at any point during the year, this planner holds 52 weekly spreads, each minimally styled with columns for to-do lists, room for evening plans as well as space for notes and scribbles.
Great for: daily and weekly planning, to-do lists and weekly habit tracking.



Patterned Gift Wrap
Available in-store only is our selection of Ola wrap. The soft uncoated paper makes them perfect for crafts such as origami and bookbinding, as well as beautiful gift wrapping.

Great for: present wrapping and crafting.
---