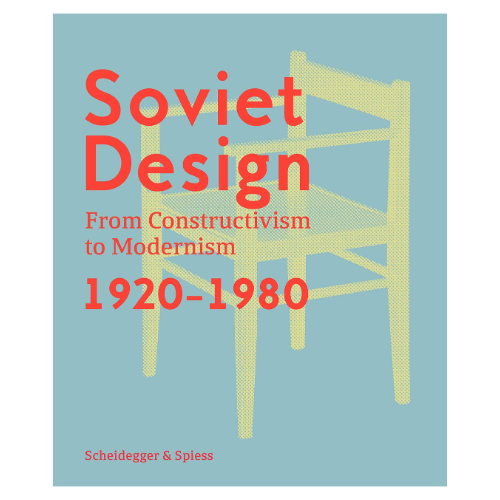 Soviet Design: From Constructivism to Modernism 1920-1980
The Soviet Union has left a vast heritage in interior design that is largely unknown in the West. Other than architecture and graphic or product design, interior design from the Soviet era has not yet been thoroughly investigated. For the first time ever, this book offers a comprehensive survey of the country's interior design culture between revolutionary avant-garde and late Soviet modernism. Drawing on archives that were inaccessible until recently and featuring a wealth of previously unpublished material, it documents the achievements of seven decades in the former socialist empire.
Soviet design is often discredited as massive, non-ergonomic and monotonous. Yet a remarkable variety of original styles have emerged behind the iron curtain. The 1920s were marked by bold exploration and experiments at Vkhutemas and by constructivism, rationalism, and suprematism. Early in Stalin's reign constructivism was heavily criticised and post-constructivism and Soviet neo-classicism appeared alongside what became known as 'agitational furniture', inspired by the regime's propaganda. The 1930s brought Soviet Art Deco and eventually Stalinist Empire, which has produced some of the Soviet Union's most iconic buildings. In the late 1950s, after Stalin's death, the last Soviet 'big style' originated modernist and functionalist furniture, mass-produced to fit the small apartments in the Khrushchyovka multi-unit housing developments that were built in cities on a large scale. The 1960s mark the Golden Age of Soviet interior design, showing again influences by the early Soviet Avant-Garde and the Bauhaus, while most of the visionary work of a new generation of designers in the 1970s and 1980s remained unrealised.
UK SHIPPING
We aim to dispatch orders within 1-2 working days and are sent via Royal Mail. Orders placed before 2pm Tues - Fri will be sent out same day. Orders placed on a Saturday, Sunday or Bank Holiday will be sent out next working day. Orders placed on a Monday will be sent out on Tuesday. Our standard shipping options are:
Royal Mail 2nd Class - £2.50
Royal Mail Tracked 24 (1-2 working days)- £4.00
Free UK delivery on orders over £40 (Royal Mail Tracked 48)


Our packing supplies are boxes, envelope, bubble wrap and packing paper. We reuse packaging where possible to reduce our impact on the environment. We do not make profit from our P&P, all prices are based on current Royal Mail guidelines. Consequently the amount seen on your parcel may differ from the amount you were charged. 
INTERNATIONAL SHIPPING
We aim to dispatch orders within 1-2 working days. 
All international orders are shipped with Royal Mail International Tracked.
Any questions about shipping orders internationally do get in touch at hello@allthingsanalogue.co.uk